Het tweede jaar op rij:
INTERNATIONAL PARTNER OF THE YEAR!
Yes! Voor het tweede jaar op rij mogen wij ons 'Dynamicweb International Partner of the Year' noemen. Wij zijn trots om deze titel inmiddels voor de derde keer in ontvangst te mogen nemen. Uiteraard zullen we er alles aan doen om ook in 2021 de titel te mogen prolongeren.
"Binnen het internationale partnernetwerk van Dynamicweb®, dat meer dan 250 gecertificeerde partners telt, is dit een mooie en prestigieuze erkenning", zegt Barry Tempelaar, managing partner van Bluedesk. "Ons laatste product op het gebied van e-commerce is CaaS ofwel 'Commerce as a Service'. Dit is een abonnement op e-commerce, waarbij wij onze klanten volledig ontzorgen. De bouw van de webshop of -site, hosting, online marketing, support en doorontwikkeling zijn daarbij inbegrepen.
Bij CaaS van Bluedesk wordt de All-in-one business software van Dynamicweb® gebruikt. Deze dienst getuigt van een mooi staaltje partnership, zodat het optuigen van e-commerce platformen van onze klanten snel en resultaatgericht uitgevoerd kunnen worden. De gefocuste houding van beide bedrijven afzonderlijk maakt het een succesvolle combinatie!"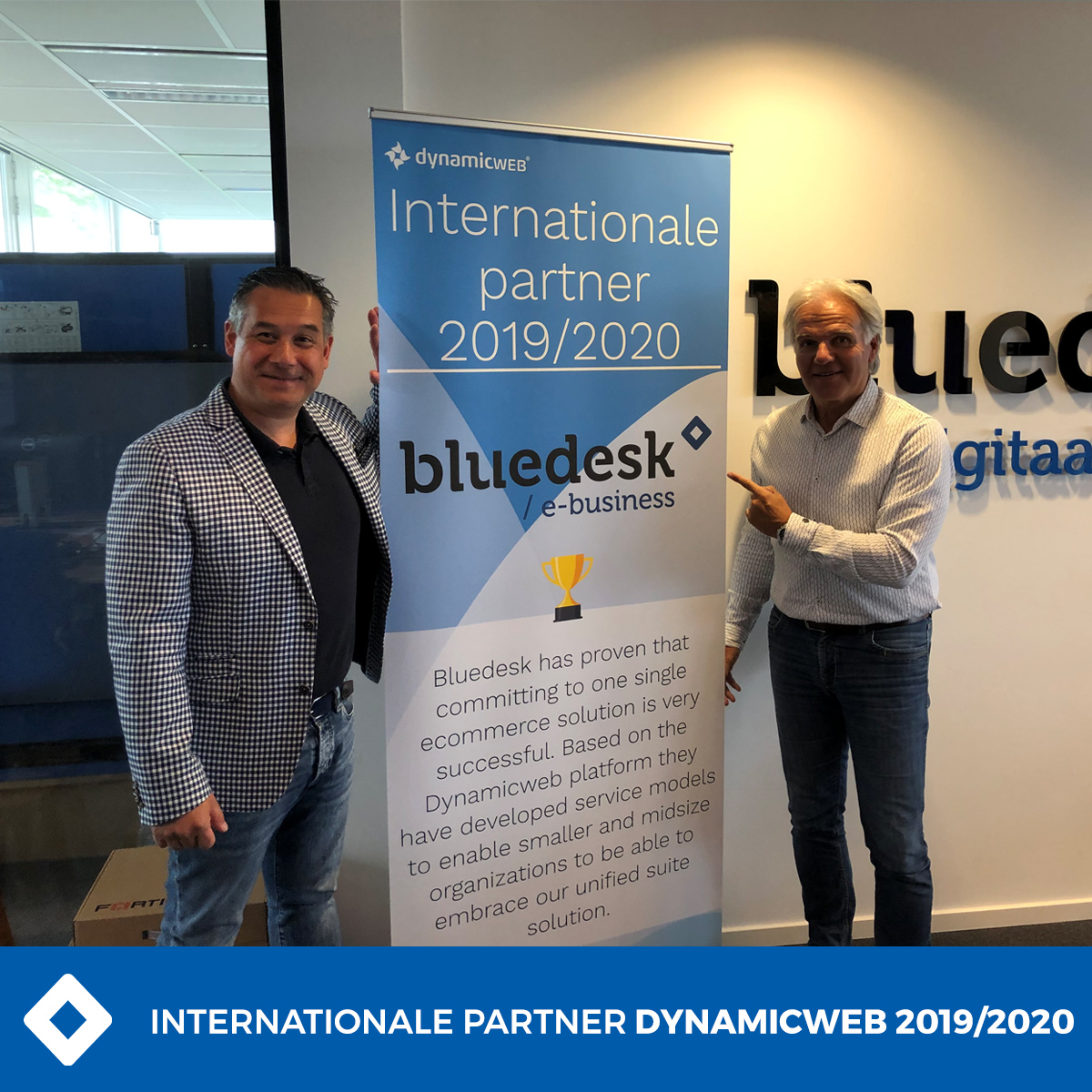 Het afgelopen jaar hebben wij met Dynamicweb prachtige projecten neer mogen zetten. Als e-business partner met meer dan 25 jaar ervaring helpen wij onze klanten digitaal groeien. Dit hebben we afgelopen jaar gedaan door sterk converterende webshops, corporate sites, business apps en service portals te realiseren voor onze klanten.
Bekijk hieronder de cases die verbonden zitten aan de samenwerking met Dynamicweb. Bent u benieuwd wat wij voor u kunnen betekenen? Neem dan gerust contact met ons op.