;
Conversie optimalisatie voor B2B websites
Wat is het en waarom is het belangrijk?
B2B conversie optimalisatie is een cruciaal onderdeel van een succesvolle online marketingstrategie in de B2B branche. B2B conversie optimalisatie verwijst naar het proces rondom het verbeteren van de prestaties van een website. Het doel hiervan is om het aantal bezoekers dat converteert naar een waardevolle lead of klant te verhogen.
Het draait allemaal om het optimaliseren van de website-ervaring om bezoekers te overtuigen actie te ondernemen, zoals het invullen van een contactformulier, het aanvragen van een offerte of het doen van een aankoop.
In de competitieve B2B-markt is het essentieel om het meeste te halen uit het verkeer dat naar uw website komt. U wilt niet alleen meer bezoekers, maar u wilt ook dat deze bezoekers omgezet worden in waardevolle leads die uiteindelijk kunnen leiden tot een aankoop. B2B conversie optimalisatie zorgt ervoor dat u het maximale rendement haalt uit uw online marketinginspanningen.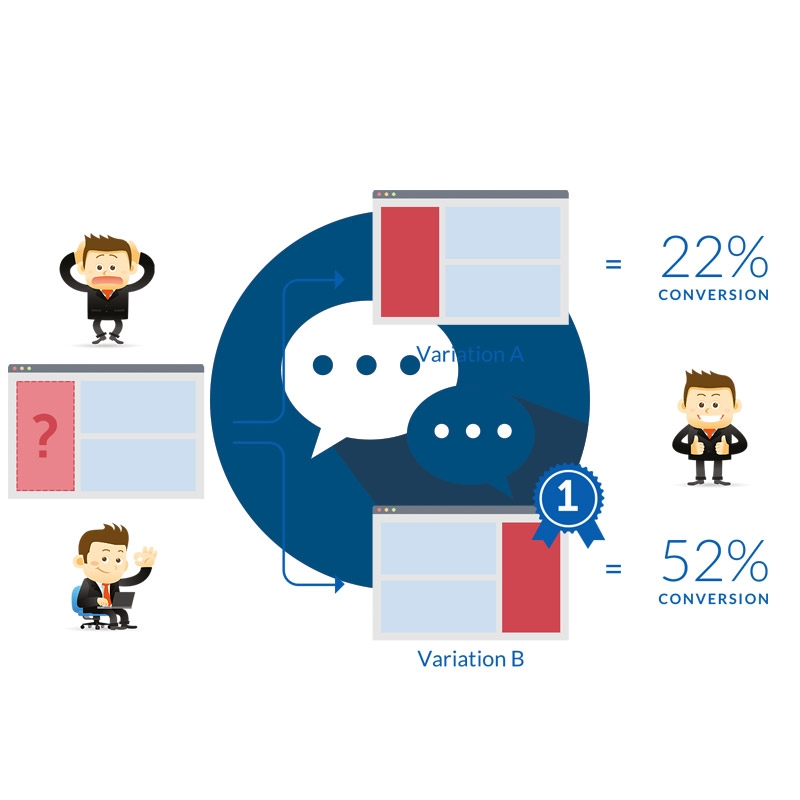 Hoe werkt B2B conversie optimalisatie?
B2B conversie optimalisatie is een datagedreven proces. Via tools als Hotjar en Microsoft clarity kunt uw bedrijf het gedrag van bezoekers op uw website analyseren. U kunt zien welke pagina's bezocht worden, hoelang bezoekers op de website blijven, waar ze op klikken en nog veel meer. Deze verzamelde data geeft inzicht in de sterke en zwakke punten van uw website en helpt u te begrijpen waar bezoekers vastlopen of afhaken.
Op basis van deze inzichten kunt u een plan gaan opstellen over hoe het aantal conversies verhoogt kunnen worden. Dit kan variëren van het aanpassen van de call-to-action (CTA) knoppen en het vereenvoudigen van het aanvraagformulier tot het optimaliseren van de gebruiksvriendelijkheid van de website en het toepassen van de principes van Cialdini.
Hierna kunt u starten met uitvoeren van A/B testen en multivariate testen om te zien welke aanpassingen het beste werken. Door twee of meer varianten te testen over een significante periode kunt u meten welke variant de meeste conversies oplevert.
De belangrijkste elementen voor B2B conversie optimalisatie
Er zijn verschillende belangrijke elementen die van invloed zijn op de conversie van een B2B website. Hier zijn enkele van de belangrijkste elementen waar u op moet letten bij het optimaliseren van de conversie:
- Duidelijke en overzichtelijke CTA's: Plaats op strategische plaatsen duidelijke en overtuigende call-to-action knoppen die bezoekers aansporen om actie te ondernemen. Gebruik sterke actiewoorden en test welke grootte en kleur het beste werken.
- Gebruiksvriendelijkheid: Zorg ervoor dat bezoekers eenvoudig de gewenste pagina kunnen vinden. Gebruikers moeten gemakkelijk kunnenn navigeren op uw website, daarom is een geoptimaliseerd navigatiestructuur van groot belang.
- Responsief design: Zorg ervoor dat uw website goed werkt op alle apparaten, inclusief mobiel en tablet. Steeds meer B2B bedrijven starten het aankoopproces op een mobiel apparaat. Een responsive design zorgt voor een optimale gebruikerservaring, ongeacht het apparaat dat de bezoeker gebruikt.
- Snelle laadtijd: 40% van de mensen verlaat een webpagina die langer dan 3 seconden nodig heeft om volledig geladen te zijn. Een snelle laadtijd is essentieel om bezoekers geïnteresseerd en betrokken te houden.
- Relevante content: Bied waardevolle en relevante content die aansluit bij de behoeften van uw doelgroep. Maak gebruik van koppen, subkoppen en bullets om de content overzichtelijk te presenteren.
- Social proof: Voeg klantgetuigenissen, case studies en logo's van klanten toe als sociaal bewijs van de waarde van uw producten of diensten. Bezoekers zijn eerder geneigd om tot een aankoop over te gaan wanneer ze positieve meningen van andere mensen zien.
- Transparantie: Zorg voor transparantie over uw producten, prijzen en voorwaarden. Vertrouwen is essentieel in B2B-transacties.
- Optimaliseer uw formulieren: Vereenvoudig alle formulieren. Bezoekers willen zo min mogelijk moeite doen om iets aan te vragen. Vraag daarom alleen informatie die echt belangrijk is.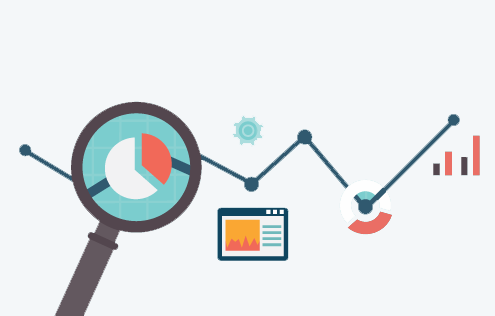 Het Belang van continu blijven optimaliseren
B2B conversie optimalisatie is geen eenmalige taak, maar eerder een doorlopend proces. Het gedrag van bezoekers en de behoeften van uw doelgroep kunnen in de loop van de tijd veranderen, dus het is belangrijk om uw website voortdurend te blijven optimaliseren om de beste resultaten te behalen.
Blijf gegevens verzamelen, testen en analyseren om te zien wat werkt en wat niet. Pas uw strategie aan op basis van deze inzichten en blijf experimenteren met nieuwe ideeën. Een iteratieve aanpak zorgt ervoor dat uw website voortdurend evolueert en steeds beter presteert in het genereren van waardevolle leads en verkoop.
B2B conversie optimalisatie bij Bluedesk
Bluedesk heeft al 25 jaar ervaring met het maken van leadgenerende en converterende websites. Door continu het klantgedrag te analyseren optimaliseren wij de websites van onze klanten. Dit pakken wij aan door tools als Hotjar en Microsoft clarity in te zetten. Hiermee kunnen wij eenvoudig het klikgedrag, scrollgedrag en de schuifdiepte per pagina analyseren. Via A/B tests kunnen wij vervolgens de website optimaliseren. Geïnteresseerd? Neem dan direct contact met ons op via het onderstaande formulier.